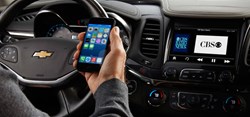 Las Vegas, NV (PRWEB) January 10, 2014
During the 2014 Consumer Electronics Show (CES), BT Software, the makers of the Kaliki Audio Newsstand, announced that its marquee on-demand spoken-word channels will debut in General Motors connected vehicles in 2014.
The latest additions to the Kaliki Audio Newsstand include:


    AccuWeather
    The Washington Times
    Newsmax
    Gigaom
    This Week in Tech
    StarDate
    American Public Media
    Canadian Broadcasting Corporation
"The Kaliki Audio Newsstand appeals to drivers who want compelling audio content from the media brands that they already use every day," says Bruce Hopkins, Vice President of Sales with Kaliki, "Our expanding line-up of content partners on the Kaliki Audio Newsstand platform will provide in-vehicle consumers with a greater variety of spoken-word programming, all available on-demand in their connected-vehicles."
These new Kaliki content partners join a stellar line-up of marquee spoken word brands, such as CBS News (60 Minutes, CBS MoneyWatch, Tech Talk, The Entertainment Report, and The Daily Dish). "CBS Radio News is proud to offer our very popular programs to an even greater audience as part of our GM/Kaliki relationship," said Harvey Nagler, CBS News Vice President, Radio.
The Kaliki Audio Newsstand is one of the inaugural applications in the Chevrolet AppShop, announced at the 2014 Consumer Electronics Show (CES). The AppShop will be available this summer on select 2015 U.S. and Canadian models with MyLink infotainment, including the Corvette, Equinox, Impala, Malibu, Volt, Silverado, and Silverado HD.
Later in 2014, the Kaliki Audio Newsstand will provide even more value to drivers by enabling in-vehicle push notifications of news alerts and severe weather conditions so that drivers can be aware of news events and changing weather conditions in a timely manner.
Another new feature slated for release in 2014 is speech corpus searching. "We understand that drivers must keep their hands on the wheel and eyes on the road in order to have a safe driving experience for everyone," continues Kaliki's Bruce Hopkins, "In 2014, we're excited to say we're that pushing the technology envelope so that drivers can search by voice for articles and content in the Newsstand. Today's users are familiar with in-vehicle voice commands, but our speech corpus search technology will allow drivers to search for any article or episode in our archive of audio content, which has never been demonstrated before in the vehicle."
About BT Software

BT Software is a media and technology company and is the creator of Kaliki – The Audio Newsstand. Kaliki partners with leading talk media publishers, broadcasters, and producers to convert their print and digital content into on-demand audio for use on mobile phones and in connected vehicles. In 2014, Kaliki is introducing NavAd™ technology, which will revolutionize how brands will interact with consumers in vehicles. (http://www.kaliki.com)