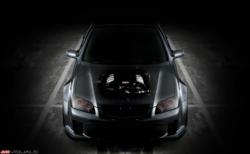 Seattle, Washington (PRWEB) May 16, 2012
Since the demise of Pontiac killed the G8, reports and rumors have been flying around about the return of the Holden Commodore as a Chevrolet to the United States. Within the last couple of months Chevrolet copyrighted the name SS, and more recently the name SS Performance was listed on the OnStar website as a 2014 model. At the same time General Motors decided to retire the Impala from NASCAR racing and replace it with a different Chevrolet nameplate for the 2013 series, saying that the Chevy SS will lend its body and name to the new racecar. Many rear-wheel-drive V8 sedan fans had a spark of hope when GM announced the Chevrolet Caprice Police Car (PPV), which is based on Holden's long-wheelbase luxury version of the Commodore and also named the Caprice. Their hopes were dashed quickly when GM made them for sale only to police agencies.    
Holden will announce today an export program for the latest version of the Commodore, the VF, which will see the Adelaide-made car become a race and showroom star in the United States.
A new web site for enthusiasts, fans, and future owners of the Chevrolet SS Performance Sedan is now up and running. The web site features up to date news and information related to the Chevrolet SS Performance Sedan, as well as an active forum where users can register for free and talk with other enthusiasts about all aspects related to this latest American performance car.
The Forum will feature information on all aspects of SS Performance Sedan ownership, and information ranging from reviews to technical articles and tutorials to videos and a variety of other features. The web site is updated on a frequent basis and is supported by several prominent Holden Owner's, Tuners, and Enthusiasts. The SS Performance Sedan Forum is now up and running. Users can talk about the latest News, Updates, Options, Ordering, and Purchasing of the new model, as well as various aspects of tuning, modifying, and owning what could be General Motors last rear wheel drive V8 Sedan. When asked why he created the web site, webmaster Tony Husted said, "I wanted a place where GM performance enthusiasts can share their ownership experiences and talk about their cars in an encouraging atmosphere with knowledgeable members and supporters."
Find More 2014 Chevrolet Impala Press Releases