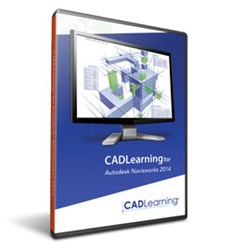 Bedford, NH (PRWEB) October 05, 2013
4D Technologies, Autodesk authorized publisher and maker of the industry-leading CADLearning products for Autodesk software, released Autodesk Navisworks 2014.
The self-paced course, offering over 8 hours of training and 142 video tutorials, is taught by Michael Smith. Lessons cover concepts and demonstrations of Autodesk Navisworks software used by architects, engineers and construction professionals.
Lessons include exploring the selection tree, comparing models, using the animator interface, managing objects in animations, creating and managing scripts, applying light effects with presenter, understanding clash test reporting, quantifying model objects, and more.
CADLearning for Autodesk Navisworks includes a variety of lessons showing users the tools for simulating with the timeliner, animator, scripter and presenter. In addition, the tutorials will show the features of the simulate functionality of the software, including how to create tasks, use the animator, understand events and apply effects.
The course was created by Michael N. Smith, a BIM Manager for C.W. Driver, a large general contractor in Southern California. The firm is highly regarded throughout the design and construction industry for implementation of BIM innovations on each project and for creating customized software plug-ins to increase the efficiency of the latest software releases.
Visit http://www.cadlearning.com/courses/autodesk-navisworks-training-tutorials/ to watch sample video tutorials, view course details, and to learn more about subscription options for individuals, Education, Enterprise and Government.
About CADLearning

CADLearning comprehensive, self-paced professional learning content is designed to maximize performance with Autodesk 2D and 3D design, engineering and entertainment software. This continuously growing library of learning material stays current with the latest software releases for AutoCAD