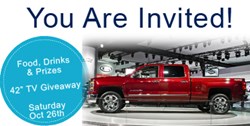 New Rochelle, NY (PRWEB) October 24, 2013
New Rochelle Chevrolet offers more than a traditional vehicle dealer: this time the company organizes a unique event on Saturday, October 26, from 12:00 pm to 5 pm in order to present the new 2014 Chevy Silverado. And everyone is invited.
The brand new model will be presented at the dealership's showroom, located at 291 Main Street, New Rochelle. During the event attendants will have the opportunity to win big prizes including a Flat Screen TV for one lucky winner and special early bird gifts for the first 25 visitors. Refreshments and finger food will be served.
As Bo Maksumov, manager at New Rochelle Chevrolet, adds "you are invited to come and see the all new 2014 Chevy Silverado. We pride ourselves in employing the best car guys in the nation, that is why we are the fastest growing Chevy dealership in New York".
There is also another advantage for visitors: when scheduling a vehicle test drive they will receive a free gift valued more than $ 5,000. The only prerequisite is to schedule a test drive in order to claim their gift; no purchase is required. It is available only at New Rochelle Chevrolet for a limited period of time, until the end of the month. The procedure is easy: first visit the company's website now, fill out the respective form to schedule a test drive, get the coupon and then bring the coupon to the test drive for the free gift.
The big event organized on Saturday is a great opportunity for prospect buyers to meet the friendly staff at the New Rochelle Chevrolet and choose their next car, whilst taking advantage of the lucrative benefits that the company offers. By attending the event on Saturday, everyone will be a winner in many aspects.