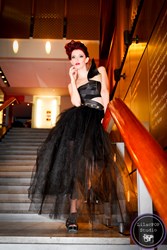 Troy, MI (PRWEB) January 28, 2014
A dress created by Janna Coumoundouros, using Inteva Products TPO material for automotive interiors, was selected as the winning design in The MAIN (Motorcity Automotive Industry Night) Event Fashion Show of automotive-inspired garments, and was modeled at the North American International Auto Show (NAIAS) Charity Preview at Cobo Center, in Detroit, on Friday, January 17. The designer and the dress also were featured on the Red Carpet during the telecast of the Charity Preview on WXYZ-TV Channel 7.
The 4th annual MAIN Event, organized by the Lawrence Technological University (LTU) College of Architecture and Design and sponsored by Inteva Products, kicked off the NAIAS on Sunday Jan. 12 at Orchestra Hall. The event recognized Carlos Ghosn, President and CEO of Nissan and CEO of Renault as "Global Industry Executive of the Year," and Ian Callum, Jaguar Design Director, as "Industry Innovator of the Year."
Additionally, select LTU students were recognized with the "Next Generation of Design Innovation" and the "Coach Builder Design" awards. The MAIN Event annual Fashion Show featured some pieces constructed from automotive materials and components, like the winning TPO-constructed entry, and provided a fashionable conclusion to the event.
The Designer and the Dress

Janna Coumoundouros is a Ferndale, Michigan-based photographer, jewelry designer and fashion stylist. She has roots in the automotive industry, with automotive styling clients that include Ford, Lincoln and Audi. She styled the 2014 Ford Fiesta catalog as well. Janna is not a newcomer to the NAIAS. In 2012, she designed custom jewelry, from scrap automotive parts, for WDIV-TV personality Ashlee Baracy to wear to the NAIAS Charity Preview, resulting in her jewelry being featured on television newsmagazine "Dateline."
Her MAIN Event winning entry was Janna's first attempt at fashion design. "I always wanted to be a fashion designer, because of my jewelry design and work in fashion photography," Janna said, "So, when I was presented this challenge, I decided to go for it."
She had only 10 days to create her design from the roll of Inteva TPO provided to her by LTU, and she embraced the challenge to create the dress from this leather-like material.
"I enjoy taking unusual materials and making something new," Janna said, "I experimented with steaming it to get curls and curves, and I even put it into the dishwasher. It came out pretty soggy, so then I had to put it in the dryer. Ultimately, the curls relaxed to curves that I could work with."
She created the top portion of the dress, which includes safety belt material, on the model, pinning everything into place and then sewing the creation together after the model removed it. The design of the bottom of the dress was reversed from her original concept, according to Janna. "Originally the tulleing was designed to be underneath, but the material didn't hang right over it," she explained, "so I switched it around and put the TPO underneath and the tulleing on top and it all came together."
Janna collaborated on the winning dress design with Nick Caggiano, another Michigan designer, giving fashion design a try for the first time. Nick is a leather artist who works mostly making bags, tool kits and belts, and recently began doing leather work for a custom motorcycle shop.
"There is nothing on this dress that is not from the automotive industry," Nick said. "It's upholstery … (TPO) and safety belt webbing, mixed with sheet metal and fender washers that were TIG welded to make the clasps and fasteners. This project was a wonderful opportunity for me to get creative and use my skills in a new direction. I'm hoping to do something like this again very soon."
The dress was modeled at the NAIAS Charity Preview by Joan Lutz.
The TPO Material

Inteva Products has a long, rich heritage of developing in-house custom formulations for automotive instrument panels and interior trim applications. The TPO used in this dress design is the result of Inteva expanding their materials expertise in vacuum-formable TPO constructions, to develop a custom, low-cost material with a premium look and feel suitable for cut-and-sew and wrap applications. It features good "drape-ability" and stretch, to enable wrapping complex shapes, and it offers excellent softness and UV stability, so it won't shrink or crack over time. Olefin materials are the lightest-weight of all plastics, which provides mass saving opportunities. This material also is suitable for hidden air bag applications.
In addition to the model wearing this creation at the NAIAS Charity Preview, Inteva Products TPO can be found on other – vehicle – models including the Kenworth T680 commercial vehicle. Other TPO formulations from Inteva Products can be found in the Chevrolet Silverado Pickup, GMC Sierra Pickup, Chevrolet Traverse, Buick Enclave, GMC Acadia, Chevrolet Impala models, and in a future domestic and Asian SUV.
The Fashion Show

"We included the fashion show in The MAIN Event because I wanted to showcase the automotive industry's innovations in materials technology and how they might be integrated into a garment," said Keith Nagara, LTU Director of Transportation and Industrial Design Programs, and The MAIN Event Executive Committee Chairman. "Fashion is a major inspiration to the auto industry. Automotive designers generate aesthetics on the exterior with sheet metal and on the interior with various fabrics, materials, jewelry. With this automotive industry-inspired fashion show, I wanted to demonstrate that design is a holistic approach between interior and exterior."
Inteva Products was one of the primary sponsors of the 2014 MAIN Event. Gerard Roose, Vice President Sales and Marketing – Inteva Products, is a member of The MAIN Event executive committee.
About Inteva Products, LLC

Inteva Products, LLC employs more than 10,400 people in 18 countries focused on delivering high quality products, on time and on budget. Inteva has global resources for engineering, manufacturing and customer service for Closure Systems, Interiors Systems, Motors and Electronics, and Roof Systems. Inteva is focused on sustained global growth, providing excellent customer service and being a best place to work for employees. The company is headquartered in Troy, Michigan. Please visit http://www.intevaproducts.com.
The MAIN Event

The Motorcity Automotive Industry Night (MAIN) Event serves as a welcome and homecoming to Detroit for all automotive professionals, especially those attending the North America International Auto Show (NAIAS). The invitation-only event's purpose is to recognize the professional community, feature concepts from students of Lawrence Technological University, and serve as a memorable and celebratory kick-off for the NAIAS Preview Week. For additional details regarding the MAIN Event, go to: http://www.mainevent20.com.
Media Contact:

Kimberly A. Welch, Inteva Products Global Marketing Communications Director

248.655.8333

kwelch(at)intevaproducts(dot)com