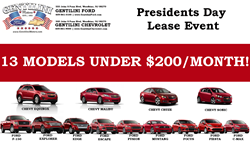 Woodbine, NJ (PRWEB) February 13, 2014
Gentilini Motors is a business that has been run by a patriotic, American family for 58 years. They are renowned for valuing their community, so the company wants to give back to the community on this important holiday. This month, Gentilini Motors, a car dealership in South Jersey, will be hosting a leasing event that allows customers to lease 13 different Ford and Chevrolet models at under $ 200 per month – all of which get an EPA-estimated 30 miles per gallon or more.
Some of the brand-new, American vehicles that qualify for this deal include the 2013 Ford C-Max, 2014 Ford Fiesta, 2014 Ford Mustang, 2014 Chevy Cruze, and other popular models. In addition, Gentilini Motors has won the Ford's Presidents Award for Superior Customer Service for more than 15 consecutive years, so every customer who leases gets to experience a unique brand of customer service.
"We don't want our customers to be left out in the cold this winter," says Don Gentlini. "Our customer satisfaction is what has set us apart from the rest for all these years, and that's a reputation we want to maintain."
Along with the lease deals under $ 200/mo., Gentilini is offering many other popular models for less than $ 300/mo. The 2014 Ford Taurus, Ford Flex, Chevy Impala, and Chevy Camaro are a few of the available options.
About Gentilini Motors:
Gentilini Motors has been the trusted new and used car dealership that NJ residents have trusted for years. Founded in 1955, the dealer has made a name for itself in the industry of Ford and Chevy vehicle sales. Winning the Ford Presidents Award for Superior Customer Service for 19 out of the past 20 years, the family-owned and operated company is well-known for treating its customers like family.