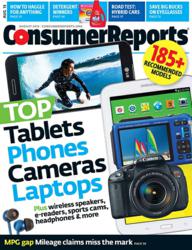 Yonkers, NY (PRWEB) July 10, 2013
Consumers who dont haggle are leaving money on the table. A new nationally representative survey of 2,000 Americans by Consumer Reports found that just 48 percent of shoppers tried bargaining for a better deal on everyday goods and services during the past three years, down from 61 percent in 2007. And most of those who bothered to negotiate received a discount at least once during that period.
The full report on haggling is available in the August 2013 issue of Consumer Reports and online at http://www.ConsumerReports.org.
Dont expect your doctor, bank, or local appliance store to cut you a break simply because you have a nice face and smile. It takes moxie and self-confidence, said Tod Marks, senior projects editor at Consumer Reports. Having the guts to ask for a discount can result in hundreds of dollars in savings.
When it comes to haggling, nothing is off limits. But those who dont take the risk, lose. In Consumer Reports survey, 35 percent of respondents said they wont bargain, period. Men are more likely to haggle than women 20 percent of women said that it makes them uncomfortable. But both genders were equally successful when they tried. Younger consumers, those 18 to 29, tend to enjoy the practice more than those over 60, who were particularly turned off by it.
Shoppers achieved the highest success haggling over the price of collectibles or antiques, furniture, and appliances according to Consumer Reports survey. Schmoozing with a salesperson was the favorite tactic for haggling over collectibles and antiques, where those who negotiated saved $ 100 on average. Those who haggled over furniture and questioned a health-related charge saved an average of $ 300; those who bargained on washers, dryers, refrigerators, and the like, saved $ 200, on average.
Consumer Reports also found that those who were successful at challenging the cost of a cell-phone plan averaged savings of $ 80.
Six Haggling Dos
Savvy negotiators know that politeness, friendliness, and a smile are harder to resist than tough talk. Consumer Reports has compiled the following tips to get to yes:
1.