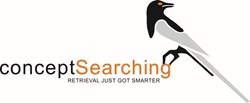 McLean, VA, US and Stevenage, UK (PRWEB) November 19, 2013
Concept Searching, a global leader in semantic metadata generation, auto-classification, and taxonomy management software, and developer of the Smart Content Framework, is pleased to announce that it will be presenting at the first ever online Office 365 Saturday event. Paul Billingham, General Manager of Europe, will be presenting at Office 365 Saturday Europe on Saturday 30th November from 2:45pm to 3:45pm GMT.
In his presentation, Eliminating the Gaps in Office 365 to Achieve Enterprise Wide Information Governance, Billingham will examine the role of information governance using Office 365 in a hybrid environment. Office 365 delivers a strong ROI and allows ubiquitous access for users, regardless of where they reside or how they are connected. When deploying Office 365, the core requirement to implement a robust enterprise information governance strategy across all content is more of an issue. Challenges include improving search, intelligent migration, eliminating inadvertent security breaches, and records management. Using a client case study, this session will explore these challenges and how they were solved for a large scale global deployment of Office 365 in a hybrid environment.
The first Online Office 365 Saturday event will be held on 30th November 2013 from 9:00am to 5:00pm GMT. Attendees will learn from the knowledge and experience of speakers on how Microsoft Office 365 can be used to deliver world-class communications, collaboration, and social solutions. Technologies covered include Office 365, Exchange Online, SharePoint Online, and Yammer, and they will be spread over 4 different tracks. Attendees include decision makers, IT pros, developers and information workers who want to learn more about the different Office 365 services.
About Office 365 Saturday

Office 365 Saturday is a not-for-profit community event that is free of charge to all registered attendees. Please visit http://office365saturday.net/ for more information.
Follow Concept Searching: http://www.twitter.com/conceptsearch
About Concept Searching

Founded in 2002, Concept Searching is now the industry leader specializing in conceptual metadata generation, auto-classification, and taxonomy management. Platform agnostic, Concept Searching is also a Microsoft managed partner with a Gold competency in Application Development, and offers a complete suite of SharePoint solutions. The award winning technologies integrated with Concept Searchings Smart Content Framework encompass the entire portfolio of unstructured information assets in on-premise, cloud, or hybrid environments. Clients have deployed the intelligent metadata enabled solutions to improve search, records management, protection of privacy data, migration, text analytics, eDiscovery, and Enterprise/Web 2.0.
Concept Searching is headquartered in the US with offices in the UK, Canada and South Africa.
Find More Auto Makers Press Releases