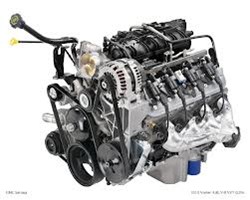 Atlanta, Georgia (PRWEB) November 07, 2013
Silverado is one of the brands in the Chevrolet series of trucks that are marketed to U.S. buyers. Engine replacements for this truck series are now expected to be simpler to research online thanks to the Got Engines company. This company has now added Chevy Silverado sale prices for its 5.3 and 5.7 series Vortec engines online.
This truck motor sale is an expanded measure for pickup truck owners, salvage company owners, warranty providers and other buyers of preowned engines to benefit.
The Vortec engine platform is still found in many of the pickup trucks produced since the 1980s and remains an engine variant that is in demand. The sale pricing that is arranged for all buyers by the Got Engines company is expected to present better pricing online.
"Silverado trucks that use the GMT platform for construction often use the V6 or V8 builds in the Vortec engine base to supply the range of power expected for truck owners," said a GotEngines.com company salesman.
The mileage ratios that can be found with some preowned engines can be one element that a consumer considers when replacing a motor in a truck or SUV. Not all used engines have a low point of mileage and could be at an increased risk of breakdown.
The GotEngines.com sale that is announced for the Silverado brand of motors includes lower than standard mileage counts for engines that are produced in the Vortec brand. These units are evaluated and validated by company staff before these are arranged for public sale.
"The sale pricing that we're featuring for all buyers online can be accessed by phone through our expanded customer service network to help bring a cheaper priced option to buyers who do not research on our website," the salesman included.
The Got Engines company has arranged more than one successful sale program in 2013 and plans to continue with price lowering initiatives are in the planning stages for a 2014 roll out. All company announcements are now made through media sources or can be accessed on the company website at http://gotengines.com/blog.
About GotEngines.com
The GotEngines.com company supplies motors that are in preowned condition for prices that are currently under the average retail marketed by most automotive companies selling replacement engines online. This company has remained a top distributor of used condition engines based on foreign and American builds available. The GotEngines.com company has constructed and updated its resourceful website online and more than 1000 engine pages are included for online research. The company customer service team responds promptly to all requests for pricing and additional information about all engines that are listed for immediate sale online.
Find More 2014 Chevrolet Silverado Press Releases