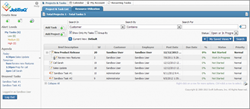 Frederick, MD (PRWEB) December 20, 2013
Swift Software released the latest version of JobTraQ Workflow and BPM software yesterday. X6.1.0 is a major step forward in the company's advancement of workflow and BPM software. The new version was designed to enhance the user experience, while increasing speed and efficiencies.
Performance improvements include page load time reductions of 1 to 1.5 seconds for all users, data transfer reductions by 10-40% for users with slower network connections, and an increased performance of around 5% for workflow engine performance. Various enhancements with JobTraQ Mobile and running timers are also included in this release.
The user interface redesign not only provides a friendlier and more intuitive user experience, it also loads faster. Swift Software CEO, Vaughn Thurman said, "The redesign was accomplished in a manner that allowed us to lighten color schemes to allow for easier reading and better ergonomics, without having to relocate any major elements of the page. Users will not need retraining of any type to utilize the new design."
Swift Software, makers of JobTraQ, provide an enterprise level BPM and workflow management system that makes companies more competitive in their various markets. Clients who have successfully and rapidly implemented our agile solution include NASA, Firth Third Bank, AutoZone, TOTAL Oil and Gas, MiSWACO, and the FDA. To learn more about how JobTraQ Workflow and BPM software can improve your workplace productivity, request a free live demonstration of the product.