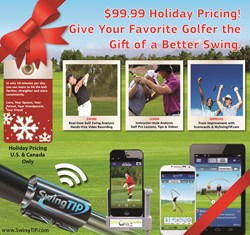 Santa Clara, CA (PRWEB) November 05, 2013
SwingTIP, the most complete and effective mobile golf swing analysis and training system on the market, is also now the most affordable. Announced today, SwingTIPs new MSRP of $ 99.99 in the U.S. and Canada is more than 20% lower than the previous price of $ 129.99. The drop comes just in time for holiday shoppers looking for the perfect gift for the golfers on their list.
SwingTIP addresses key elements to improve a golfers game. The small, lightweight motion sensor attaches to a golf club and syncs to an iPhone or Android smart phone to provide immediate and accurate real-time swing analysis along with auto-video capture. The user interface and embedded instruction tips/videos make it easy to identify and fix problem spots in real-time.
"As we continue to expand SwingTIPs capabilities and product offerings, its important to us that we get the technology in the hands of as many golfers as possible," said Vijay Nadkarni, CEO of Mobiplex Inc., makers of SwingTIP. "This is the most competitively priced and advanced golf swing analysis technology product on the market today. With an even more economical price point, were happy to give more golfers the experience of understanding their swing and improving their game."
SwingTIP will be available this holiday season at the newly reduced price through a number of physical and online retailers. For a full list of retail partners, visit the "where to buy" section of the SwingTIP website here.
A great stocking stuffer, SwingTIP is now available in the U.S. and Canada for $ 99.99 and is sold online and in stores. For more information or to watch a video demonstration, please visit http://www.swingtip.com/page/product.
About Mobiplex Inc.
SwingTIP