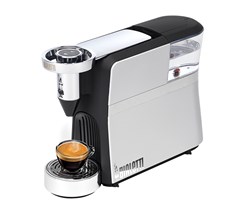 Rancho Cucamonga, Calif. (PRWEB) December 11, 2013
Bradshaw International, a premier marketer of housewares products, today announced that the Bialetti Diva single-serve espresso system has been selected as a finalist in the Countertop Cooking & Beverage Appliances category of the prestigious 2014 Housewares Design Awards.
The Bialetti Diva is in the running for the Best of the Best Awards that will be given to the best housewares products of the year at the Gold, Silver and Bronze levels. The Housewares Design Awards is the industrys premier independent awards competition. Winners will be announced at the Housewares Design Awards presentation ceremony and luncheon on Tuesday, February 4, 2014 at the New York Marriott Marquis.
Being selected as a finalist in the Housewares Design Awards for the Bialetti Diva is a significant acknowledgment of Bialettis brand mission of manufacturing innovative and functional products, said Jason Vaske, Sr. Product Manager, Bradshaw International. The Diva is elegant, with a modern design and offers a true Italian espresso experience in a single-serve system. We are honored to receive this acknowledgment from the housewares industry.
With its sleek, space-saving design, the Diva system features a touch-sensitive, swipe-to-brew button for two programmable options: a long or short espresso shot; a 20-bar (290 psi), high-pressure system that ensures the perfect cup of Italian espresso in seconds; and an adjustable height tray to accommodate different sized cups. The Diva also features an auto-expulsion system, eliminating the need to manually remove used capsules after each use as it automatically ejects used capsules into a removable capsule collector. To conserve energy, the system includes an auto-shutoff.
The Diva uses Bialettis exclusive Italian roasted espresso blends called I Caff