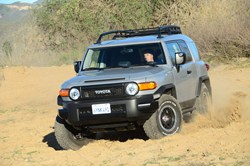 Torrance, CA (PRWEB) July 23, 2013
There's nothing more rewarding than conquering rough terrain in the perfect four-wheel drive vehicle, and a new list from autoMedia.com has rounded up the best off-roaders available to help buyers make the right choice for their needs. The article, Top Ten 4×4 Off-Road Trucks This Year, lists a wide variety of trucks and SUVs capable of handling themselves on both paved roads and untamed wilderness with aplomb.
Four-wheel drive off-road vehicles have always been popular here in the United States, where freedom and adventure are considered two of the most important personal liberties. The off-roading community has a vibrant and dedicated culture, with a wider variety of vehicles to choose from than ever before – gone are the days where consumer off-roading choices began and ended with the Jeep Wrangler. The current 2013 and 2014 off-roading vehicles may well be the best ever.
Since there are so many four-wheel drive vehicles with off-road capability these days, the autoMedia.com article sorts through the most popular and versatile models to select ten that must be on the radar. Bare-bones performance or luxury desert running? With the wide range of off-roaders on the market today, buyers can take their pick.
"Off-road vehicles are no longer minimalist cars that have few creature comforts and are difficult to drive in everyday situations, and this new list reflects that," said autoMedia.com Founder and CEO Doug Hamlin. "Buyers can find a wide variety of brand new trucks and SUVs in any price range, and select the one that fits their budget and sense of adventure. Then they can use the autoMedia.com New Cars buying guide to research the truck they like, and even request a quote."
The list features familiar faces that have been traversing sand dunes and forest trails for decades, as well as brand new models that are eager to prove their off-road credentials, too.
Among the most recognizable are the three big American pick-ups. The 2013 Ram 1500 is considered by many to be the best truck from the U.S. today, while the revised 2014 Chevrolet Silverado that will be in dealerships very soon is also extremely capable. And of course, the current favorite for those who thirst for mud is the 2013 Ford F-150 SVT Raptor.
From there, the list takes a very interesting turn. Other pick-ups in the 4×4 off-road category include the Honda Ridgeline, Nissan Frontier and Toyota Tundra. Another intriguing option is the 2013 Toyota FJ Cruiser Trail Teams Special Edition, while the aggressive new 2014 Jeep Cherokee Trailhawk seems custom built for the challenges of the wild. True terrain tacklers can be found in the iconic Jeep Wrangler and the unmistakable Land Rover LR4.
"The modern off-roader has a wealth of choices, and autoMedia.com is here to help them make a great decision," said Hamlin.
Keep checking autoMedia.com for the latest news, photos and analysis from around the automotive industry.
About autoMedia.com: The auto website was launched in September 2000 by a team of automotive editorial, design, and publishing professionals, with the goal to be the premier provider of quality automotive content on and for the Web. Today it features over 92,500 pages of original articles, including over 2,500 features researched and written by leading automotive experts, covering new and used car buying, new vehicle previews, road test reviews, car care maintenance, professional driving advice, and technology. Automotive enthusiasts and new car shoppers can read about the latest industry news, pricing, rebates and incentives, view photo galleries and research details on all makes and models. For more information, visit autoMedia.com.