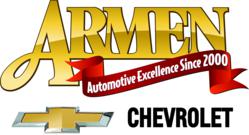 Ardmore, PA (PRWEB) July 08, 2013
There is a lot of buzz about the new 2014 Chevrolet Silverado and Armen Chevrolet takes pride that they will be the first dealership in the area to have one on July 9, 2013. The completely re-designed Silverado will arrive at the dealership in Ardmore after it is picked up from a Philadelphia Phillies "driveaway" event. Before arriving at Armen Chevrolet, this special vehicle will be on display on Citizens Bank Way for spectators to see prior to the Phillies baseball game.
Tod Gomer, general manager at Armen Chevrolet states, "There was so much interest among our dealership staff regarding who would be able to go and drive this vehicle home that we actually had to put names in a hat and select a winner. All new vehicle introductions are exciting, but this one seems to have everyone buzzing." Everything, from Silverado's interior and exterior styling to ergonomics and performance, has been re-engineered. The new Silverado is said to be stronger, smarter and more capable than ever. Armen Chevrolet proudly invites all of their customers and friends to stop in and see this exciting new pickup.
Facts about Armen Chevrolet:
Armen Chevrolet is the regional Camden NJ, Norristown PA and Philadelphia Chevrolet dealer. Located in Ardmore, Pennsylvania, the Armen Organization has been serving Delaware Valley Chevrolet drivers with new and used cars, trucks and SUVs for over 25 years. The company is a full service provider for Chevrolet and GM products and has a maintenance center (including collision repair), replacement parts and after-market GM accessories. To show their appreciation, Armen Chevrolet gives each new customer who purchases an automobile from their dealership a VIP card which provides discounts and complimentary services.
To learn more about Armen Chevrolet, visit their website at http://www.armencars.com.
This release was submitted by Click Ready Marketing, a prominent search marketing agency.