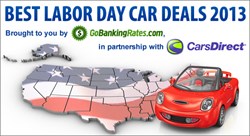 Los Angeles, CA (PRWEB) August 27, 2013
With auto loan rates near record lows and auto sales pacing at record highs since before the recession, now is a prime time to purchase a new car. To help save consumers the most money possible on car purchases this Labor Day weekend, GoBankingRates.com partnered with automotive expert CarsDirect.com to uncover the best Labor Day car bargains.
The Labor Day deals report appraised vehicles in the following categories:


    Sports
    Luxury
    Hybrid/electric
    Family size
    Trucks
Steep discounts were uncovered from several manufacturers, including BMW, Chevrolet, Nissan, Toyota, Ford, Audi, Chrysler and Cadillac, with savings of up to $ 13,000 off MSRP.
"Shopping for a new car on Labor Day weekend provides exceptional savings opportunities — it's one of the rarer times of the year where buyers have an edge over dealerships," said GoBankingRates.com editor Jennifer Calonia. "New 2014 models are rolling onto car lots, and dealers are in a hurry to sell 2013 inventory fast, even if it means caving in to the consumer's bottom line."
Vehicles included in the Labor Day deals report include 2013 models of:
    Chevrolet Corvette Convertible
    Nissan Titan
    Ford Mustang
    Cadillac CTS Coupe
    BMW 740
    Audi A8
    BMW ActiveHybrid 5
    Ford Flex
    Chrysler Town & Country
    Toyota Camry
    BMW X5
    Nissan Leaf
    Chevrolet Silverado 1500
"Our research reveals that manufacturers are doing whatever they can to attract consumer purchases on 2013 vehicles through multiple incentives," Calonia said. "From rebates, bonus cash and finance cash — not to mention today's competitive auto loan rates — there are several reasons for car buyers to celebrate this Labor Day."
To view the complete report, please visit GoBankingRates.com at http://bit.ly/13zKYpv.
About GoBankingRates.com
GoBankingRates.com is a personal finance website that connects consumers with the best interest rates nationwide. It collects rates on savings, CDs and checking accounts, as well as auto and mortgage loans from more than 4,000 financial institutions. GoBankingRates.com's editors have been featured on several top media outlets such as US News, Yahoo! Finance, Forbes, The Street, LA Times, Huffington Post and more.
Before making a car purchase this Labor Day, GoBankingRates.com reminds customers to research auto loan rates in their community. For more information, visit http://bit.ly/153no2L.
About CarsDirect.com
Los Angeles-based CarsDirect is the leading multi-brand online car buying service, providing new car, used car and auto finance-related content and services since 1998.
Contact:
Connie Lundegard

GoBankingRates.com

PR(@)GoBankingRates(dot)com

310-297-9233 x112
###