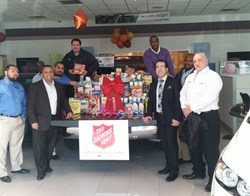 New Rochelle, NY (PRWEB) November 23, 2013
Major news from New Rochelle Chevrolet: The Silverado Truck bed is getting fuller and fuller by day, as they ask friends and neighbors to help and give back to the hungry and homeless of New Rochelle.
This Saturday, right before Thanksgiving, they are donating to the Salvation Army Food Pantry, as there are hundreds of hungry and homeless in New Rochelle. Everyone is invited to come to the dealership's showroom at 291 Main Street, New Rochelle, NY. The company's aim is to fill the Silverado truck bed with canned food and everybody can contribute. A visit to the dealership's premises will give the opportunity for the people to see first hand how much the company, their friends and customers helped fill up the truck. On that Saturday, they will be driving the truck full of food to the food pantry at the New Rochelle Salvation Army.
As Bo Maksumov, Manager at New Rochelle Chevrolet explains, "We love being part of the community and absolutely love giving back, especially during Thanksgiving. No one should be left hungry in New Rochelle."
And there is more: At the same time, the 6th Annual Off the Wall Sales Event is taking place at New Rochelle Chevrolet and visitors can save thousands of dollars off the MSRP.
The managers have posted internal invoices for the public to see. Every new Chevrolet invoice will be on the showroom wall. After the visitor finds the vehicle they desire on the lot, they can go inside the showroom and pull the matching invoice off the wall to start the savings.
Mr. Maksumov adds, "Save almost $ 4,000 instantly on a 2013 Chevy Volt, plus get an additional $ 7,000 rebate. Over $ 10,000 in savings available only during the Off the Wall Sale."
All qualifying factory rebate will be added to the customer's total savings. Every new vehicle qualifies for the offer, even the all-new 2014 models. This spectacular event only takes place once a year at New Rochelle Chevrolet. Visit the showroom and take advantage of the savings and help fill up the truck with canned food for the Salvation Army food pantry.