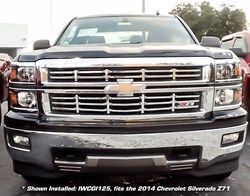 Tampa, FL (PRWEB) February 04, 2014
The 2014 Chevrolet Silverado looks great with chrome accent trim. Now Chevrolet owners can give their Silverado the look of an upgraded trim level, without having to upgrade, with chrome grille overlays from Coast to Coast International (CCI). CCI chrome accessories instantly improves the Silverado's lower trim levels with mirror covers, door handle covers, and most notably their grille overlays.
CCI has been manufacturing and distributing automotive aftermarket accessories for more than 20 years for various models of Chevrolet, Ford, Dodge, Nissan, Toyota, and more. Restyling accessories like grille overlays are just one of many products CCI manufactures. "The CCI grille overlay for the 2014 Chevy Silverado is a great representation of the restyling products we strive to manufacture," said Kurt Kruse, marketing manager for CCI. "The grille overlay complements the OEM grille design providing the look of an upgraded trim level at an affordable price point and is relatively easy to install."
Designed to be installed with no automotive experience, CCI's grille overlays do not require drilling, bolting, or cutting. They are made out of Acrylonitrile Butadiene Styrene (ABS) and are chrome plated for long lasting shine. CCI has created three grille overlays for distinct models of the 2014 North American Truck of the Year, one fitting the 2014 Chevrolet Silverado 1WT, 2WT and LT models, the second fitting the 2014 Chevrolet Silverado LTZ model, and the third to fit the Z71 model. "Grille overlays are one of our most popular product categories, and the Chevy Silverado is one of the most popular vehicle models we restyle," said Kruse. "We would love to outfit every Chevy Silverado with a CCI grille overlay."
In addition to grille overlays, CCI also offers restyling accessories like door handle covers, mirror covers, rear accent trim, light bezels, pillar post covers, windowsill trim, gas door covers, fender trims, side vents, etc. The company, which is headquartered in Tampa, Florida, is also an industry leader in aftermarket and OEM replacement wheels and wheel accessories.
About Coast to Coast International:
Manufacturing and distributing automotive wheels, parts, and accessories for more than 20 years, Coast to Coast International is dedicated to skilled product development, quality parts production, and superior customer service. CCI is owned by LKQ Corporation, an international automobile replacement parts provider. For more information, visit http://www.coast2coastinternational.com.