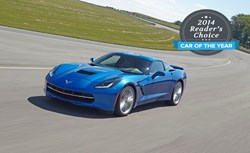 Toronto, Canada (PRWEB) December 17, 2013
AutoGuide.com is excited to announce that the winner of the Reader's Choice Car of the Year for 2014 is the Corvette Stingray.
Giving readers a choice to voice their opinion on which new car is the best, AutoGuide.com polled its readers as well as the over 30 million members of the 400+ AutoGuide enthusiast forums, who responded by picking the seventh-generation Corvette as their car of the year.
The news came as little surprise to AutoGuide's team of editors, who tested the new Corvette Stingray earlier this year and referred to it as, "The ultimate performance bargain and a whole lot more."
Chosen from a crop of 13 finalists the Corvette beat out top sellers, European luxury sedans and even a crop of serious performance machines, including the new Porsche Cayman and the Jaguar F-Type, to claim the reader's choice award. This is the second year the award has been presented.
"Congratulations to everyone involved with the new Corvette and to the entire Chevrolet team," said AutoGuide.com Editorial Director Colum Wood. "I'm not the least bit surprised by the results. Whether its the new look, improved interior, the iconic name or its 450 hp 6.2-liter V8, the Stingray launched hard in the polls and just continued to race away from the competition."
"I'm excited at the response this year, from AutoGuide readers and from our vast forum community," Wood continued. "Social media also played a bigger roll than ever in encouraging interaction, resulting in three times as many responses for this year's awards poll."
With seven different vehicle categories voted on in the 2014 AutoGuide.com Reader's Choice Car of the Year Awards, the Corvette Stingray also takes home the prize in the Sports Car class. In total, General Motors cleaned up, taking five of the seven awards with the 2014 Chevy Silverado 1500 winning the Reader's Choice Truck of the Year, the Cadillac CTS winning the Reader's Choice Luxury Car of the Year and the Cadillac ELR winning the Reader's Choice Green Car of the Year.
The final awards went to Jeep and Land Rover with the new 2014 Cherokee taking the Reader's Choice Crossover of the Year, while the Range Rover Sport was picked overall in the category for the Reader's Choice Luxury SUV/Crossover of the Year.
About AutoGuide.com

AutoGuide.com, a Verticalscope property, is a new car shopping consumer resource site and the flagship of the AutoGuide forum network comprising over 400 vehicle and manufacturer enthusiast sites. According to independent audience measurement agency, comScore Media Metrix, the AutoGuide.com network ranks first in monthly audience size among all automotive resource websites.
Find More 2014 Chevrolet Silverado Press Releases