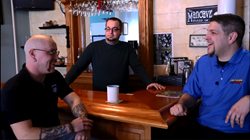 Trevose, PA, (PRWEB) March 05, 2014
Evan Graham, a 31-year-old Army veteran who came back from Afghanistan with two Purple Hearts for combat wounds, has been selected as the latest winner of CollisionMax's Metal of Honor Award. As a result, CollisionMax of Pennsauken, N.J. will repair his 2012 Chevrolet Silverado pickup truck free of charge.
Mr. Graham, who lives in Somerdale, NJ, served two tours of combat duty in Afghanistan with the 82nd Airborne Division from 2007 to 2010. After his discharge from the Army in 2010, he served in the Army National Guard until he retired from the military as a sergeant in 2011.
Seeing action in Afghanistan in both cities and the rural countryside, he was shot twice, hit by a hand grenade once and injured by multiple roadside improvised explosive devices. He now suffers from traumatic brain injury that impairs his short-term memory, and is being treated for post-traumatic stress disorder, which makes it difficult for him to talk about his combat experience.
"I lost a lot of friends," he says while visibly trying to control his emotions. Despite his multiple wounds, he returned to combat each time because "I wanted to get back to help my buddies. They were like family to me."
Mr. Graham was nominated by his wife, Genna, and his brother-in-law, John Cajio, who was at the wheel of the truck last year when it hit a lamppost, damaging the left rear quarter panel. Mr. Cajio felt obliged to pay for the damage, but was unprepared when the estimates came in at thousands of dollars. "I heard about the Metal of Honor Project on WMMR-FM, and thought I'd take a chance," he said. "I owed Evan, and this is a great way to pay him back."
Married and with one child, Mr. Graham works on a road maintenance crew for the New Jersey Department of Transportation and is a volunteer fireman for the Lindenwold Fire Department, Battalion 2.
Through its Metal of Honor project, CollisionMax is giving away auto body repairs to 11 US military veterans, one per month for each of its locations in the Delaware Valley. The company chooses the winner from nominations it receives from the public on the project's web site, http://www.metalofhonorproject.com. The company is now accepting nominations for a veteran from the Northeast Philadelphia, PA area.
"The Metal of Honor Project is our way of saying thank you and honoring the men and women of our armed forces who put their lives on the line for all of us," said Jim Tornetta, CollisionMax president and CEO.
In New Jersey, CollisionMax operates shops in Blackwood, Cinnaminson, Glassboro, Marlton, Pennsauken, Sicklerville and Westmont. In Pennsylvania, it has repair centers in Oxford Valley, Warminster and two in Northeast Philadelphia (both on West Grant Avenue). For information about CollisionMax, please visit http://www.collisionmax.com.